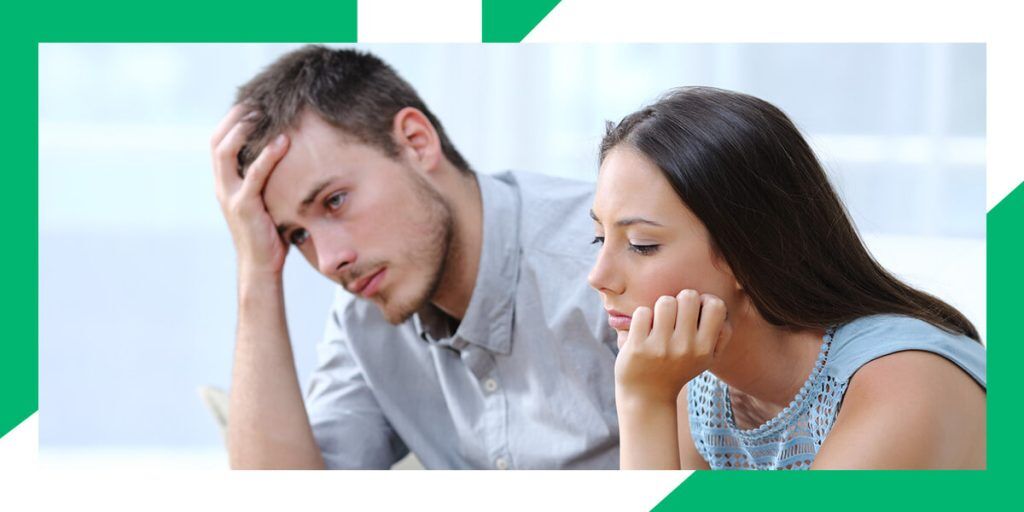 Roof repair scams are becoming more common in Florida because of frequent severe weather and high population. The increase in Florida roofing scams makes homeowner insurance companies choosier about who they insure.
Because roof scammers take advantage of homeowners and insurance companies, it's important to know the common roof replacement scams and how to avoid them.
10 Common Roofing Company Scams
When your roof shows signs that you need to replace it, look out for these 10 common roofing company scams so you can ensure you are hiring a hardworking, professional contractor.
1. Insurance Fraud
The top roofing companies to avoid are those willing to commit insurance fraud. Since 2021 eight insurance companies have gone out of business in Florida because of fraud. There are several ways scammers can commit insurance fraud:
Paying your insurance deductible: The roofing contractor might give your insurance company a higher estimate than they give you, return your deductible and pocket the extra money.
Asking for Assignment of Benefits (AoB): An AoB form gives a contractor permission to work with your insurance company on your behalf. The contractors report false damage, the insurance adjuster disputes the claim and then the contractors sue the insurance company for not paying the claim.
Requesting your insurance check: A roofing contractor may request a down payment, but they shouldn't ask for your insurance check.
2. Storm Chasers
Storm chasers are roofers you should avoid, as they target areas recently affected by severe weather. They show up at your house either handing out leaflets or saying they've noticed damage on your roof and offering a free inspection. These contractors often do poor work, skip town before they finish the job and collect a large down payment. If they convince homeowners to file an insurance claim, they pocket the insurance money and leave you with a shoddy roof.
Professional contractors run successful companies, so they needn't go door-to-door to drum up business. Always file an insurance claim first if a storm damages your roof. You can find a reliable contractor once you know what your insurance will cover.
3. The Good Samaritan
In this roofing scam, someone may come to your door claiming to be a neighbor who notices damage on your roof and offers to go up and check it out for you. Often, they will demand payment for the inspection afterward or claim to have "fixed" the issue and want compensation. They could also potentially claim an injury and sue you because it happened on your property. It's important to never let anyone but a licensed contractor get on your roof.
4. No Contract
A contract outlines the job and payment terms, which protects you from price increases and incomplete jobs. If the company wants to begin repairs without a contract, request one. You are better off hiring someone else if the company refuses to draw up a contract.
5. Mysterious Damage
Another one of the roofing scams in Florida is the mysterious damage scam. With this scam, a contractor will come to your home and mention vague roof damage they've noticed. The contractor may offer a free inspection and, during their inspection, cause the damage they falsely reported to you. After the inspection, they claim the damage is severe and your roof needs repairs.
If contractors don't detail the damage, they are probably exaggerating it. When a storm damages your roof, take pictures of it before an inspection. After a contractor inspects your roof, ask for details about the damage, how it happened and what repairs it needs.
6. Unlicensed or Uninsured Contractors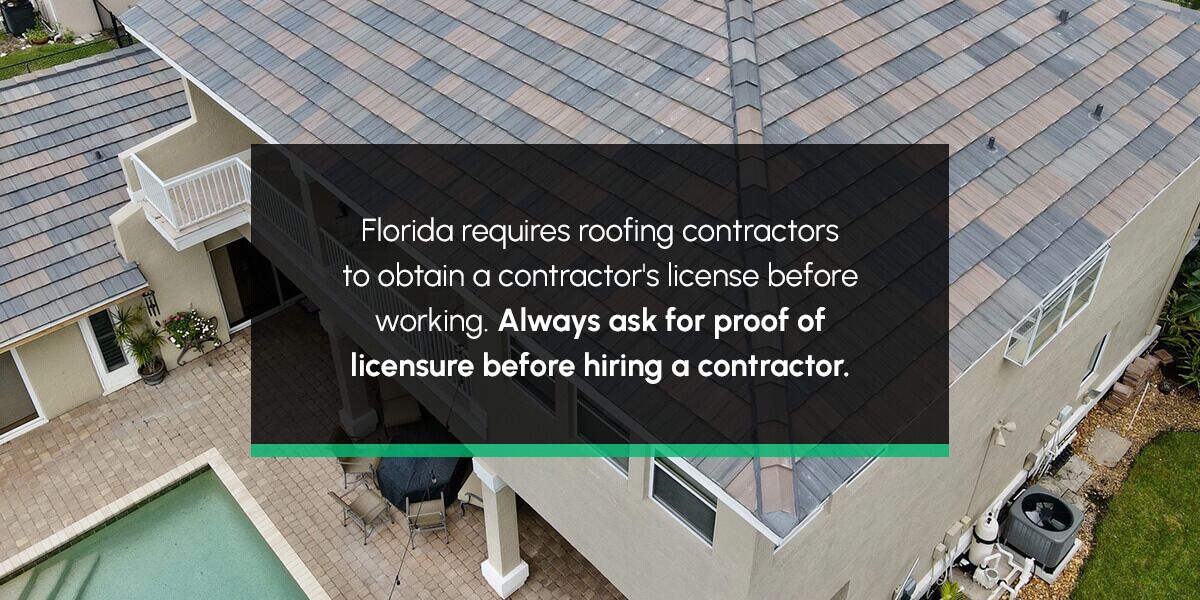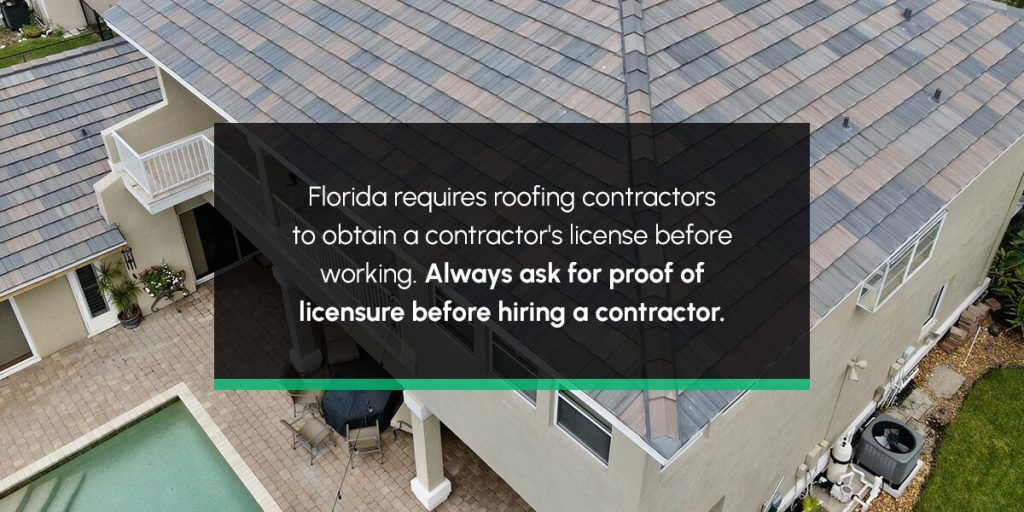 Florida requires roofing contractors to obtain a contractor's license before working. Always ask for proof of licensure before hiring a contractor. Additionally, licensed contractors carry insurance, such as liability, which protects you if an employee becomes injured, damages your property or causes an accident.
7. Low Estimate
Sometimes, a contractor will offer you a lower estimate than competitors, only to increase their estimate as they work. Typically, you want to receive estimates from three roofing companies and compare them. Ensure you ask the roofing company what they plan to replace or fix. Any estimate that is too low is probably too good to be true. Always outline the terms for price changes in your contract to protect yourself from overpaying.
8. Sizeable Down Payment, Upfront Payment or Cash
It's understandable for contractors to request a down payment to cover the materials' cost before starting the project. However, the down payment should be manageable. A reasonable down payment is 20% of the estimated project total or less. Larger down payments might signal a contractor who is planning to take your money and bail.
Another indicator the contractor might bail is when they request the entire payment upfront. Contractors should never do this because unexpected things can happen that change the total.
Lastly, be wary of a contractor who requests a cash payment or offers you a discount for cash because it's untraceable.
9. Time-Sensitive Offers and Discounted Materials
A standard roofing scam is when a contractor pressures you to sign a contract for a special "today only" deal. You should always solicit and compare multiple estimates before signing a contract with any roofing company.
Like time-sensitive offers, scammers might offer a special discount to repair or replace your roof with leftover materials. Often, these materials are in poor condition. These aesthetic repairs are like band-aids — they cover the problem instead of fixing it.
10. Requests You Pull Permits
Reputable roofing contractors always secure the necessary permits for jobs. If a contractor requests that you obtain the permits, they may be ineligible for them or unwelcome at the permit office.
How to Avoid Roof Scams
Now that you know about these scams, here are some tips to help you avoid them:
Research: Scammers try to play on your fear and force you to make an impulsive decision. You can prevent this by taking your time to research the company. Check their license status, read online reviews, ask them for references and proof of insurance, search for them on the Better Business Bureau and browse their website.
Ask questions: Ask the contractor questions about their experience, location, costs and payments, terms of service, warranties, subcontractors and project timeline. You might also ask for referrals to speak with previous customers.
Get multiple opinions: Always get a second opinion to compare the quotes and the company's words. Be wary if a roofing contractor drives by your home and claims to see damage on your roof.
Listen closely: A contractor that offers to pay your insurance deductible or tempts you with no-cost incentives might plan on committing insurance fraud.
Say no: Don't sign a contract if you aren't comfortable with the terms.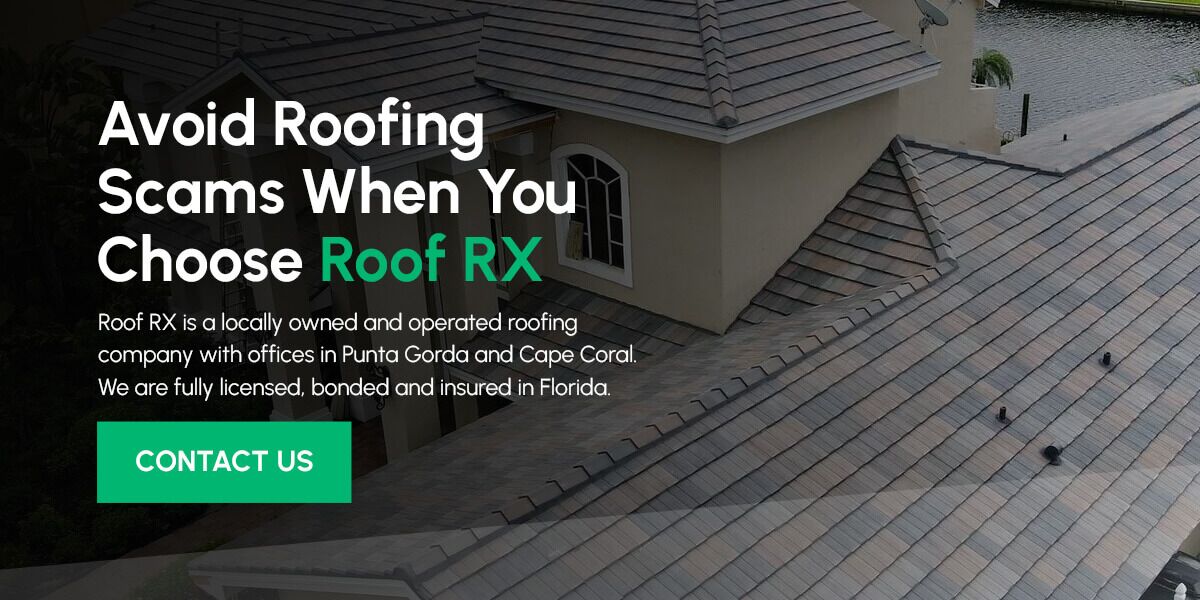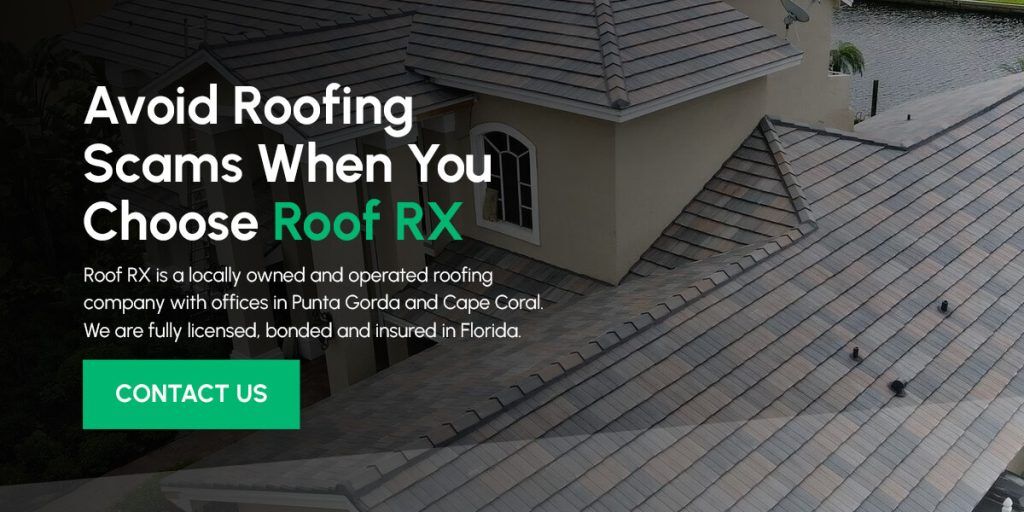 Avoid Roofing Scams When You Choose Roof RX
You avoid roofing scams when you hire a professional, reliable and trustworthy roofing company for your roofing needs. Roof RX is a locally owned and operated roofing company with offices in Punta Gorda and Cape Coral. We are fully licensed, bonded and insured in Florida.
Our collaborative approach to addressing our customers' concerns has led to thousands of satisfied clients. We have the materials, options, experience and dedication to fulfill your wants and needs and help you have a stress-free experience. Contact us today to learn how we can help you.