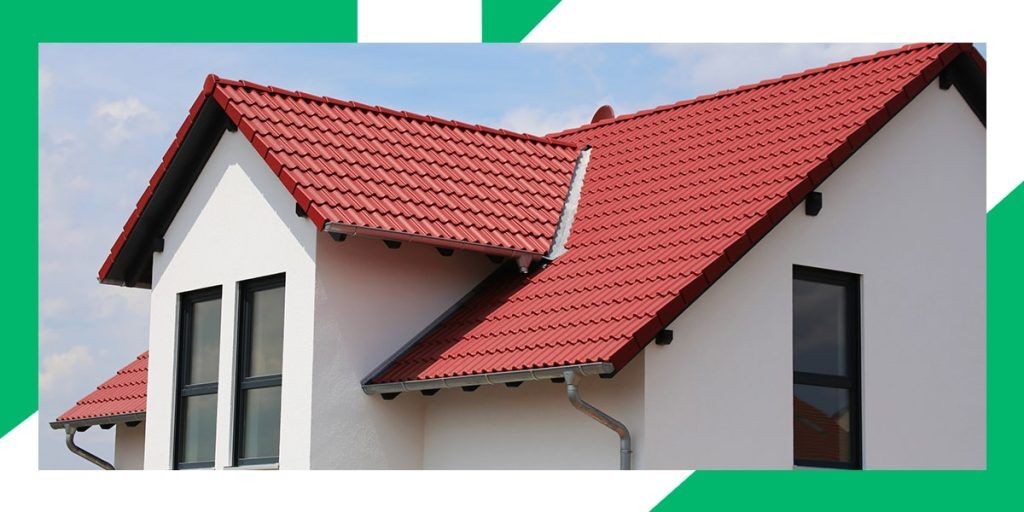 Popular Roofing Colors of 2023
When it's time to replace their roofs, most homeowners consider what material they want. Shingles are a favorite among homeowners because they're cost-effective and long-lasting — but many homeowners don't realize there are more shingle colors than just black. Check out this guide to learn the most popular colors of roofing shingles and their complements.
What is a Shingle Roof?
The most common roofing material throughout the United States is asphalt shingles. Asphalt shingles consist of flat, rectangular pieces of asphalt that start at the roof's base and go up, often overlapping for full coverage.
Asphalt shingles are one of the most affordable roofing materials for homeowners because manufacturers can create them in bulk. They offer other benefits, such as:
Design: Shingles have been a popular roofing material for many years. They provide a classic look that complements your shutters and siding.
Versatility: A wide variety of colors and styles are available.
Longevity: Quality asphalt shingles can last for 20 years.
Easy installation: Asphalt shingles are easier to handle and cut than other materials, making the installation quicker. Quicker installations save on labor costs.
Simple repairs: If there are only a few damaged shingles, professionals can replace them, unlike other roofing materials where you must replace the entire roof.
Rust-resistant: These shingles won't rust or corrode.
Lightweight: Some homes can't support heavy roofing materials, like slate or clay tiles. Asphalt shingles are lightweight, so they can go on most homes.
Types of Asphalt Shingles
The three main types of asphalt shingles are:
Three-tab: Three-tab shingles are distinguishable by their unique design. Each shingle has three uniform cutouts along the edges to look like three pieces. The shingles usually lay completely flat, creating a consistent look.
Architectural: These shingles are thicker and more durable than three-tab. Manufacturers laminate them with additional asphalt layers to make them appear three-dimensional.
Luxury: Luxury shingles are larger and thicker than architectural and three-tab shingles. They replicate the look of natural slate or shake shingles to enhance your home's appearance.
Top 6 Most Popular Roof Shingle Colors
Design trends change every year. If red shingles are popular this year, they may not be the next. However, certain colors remain classy and stylish, even if they aren't popular anymore — especially if the color complements your home's existing architecture. Here are the six most popular roof colors for 2023:
Brown
Gray
Black
Blue
Green
Off-white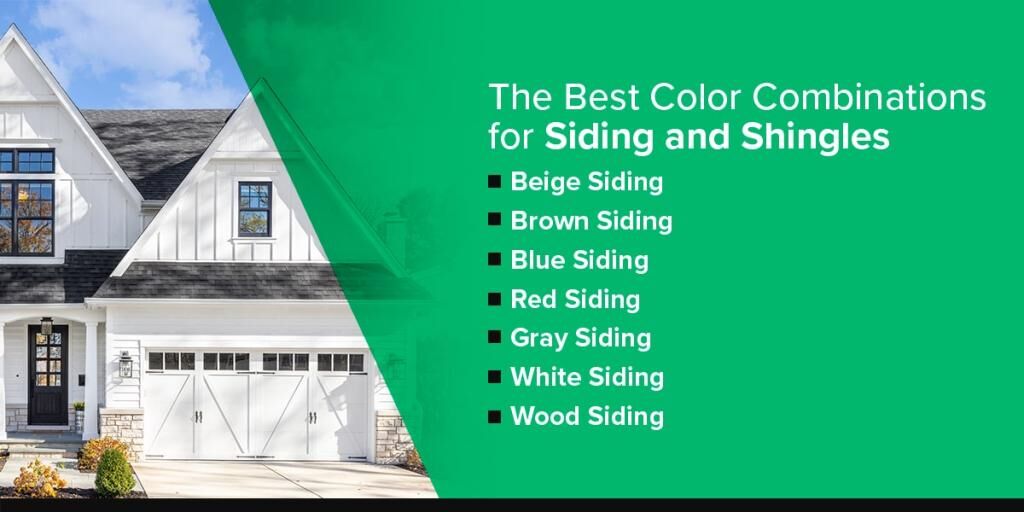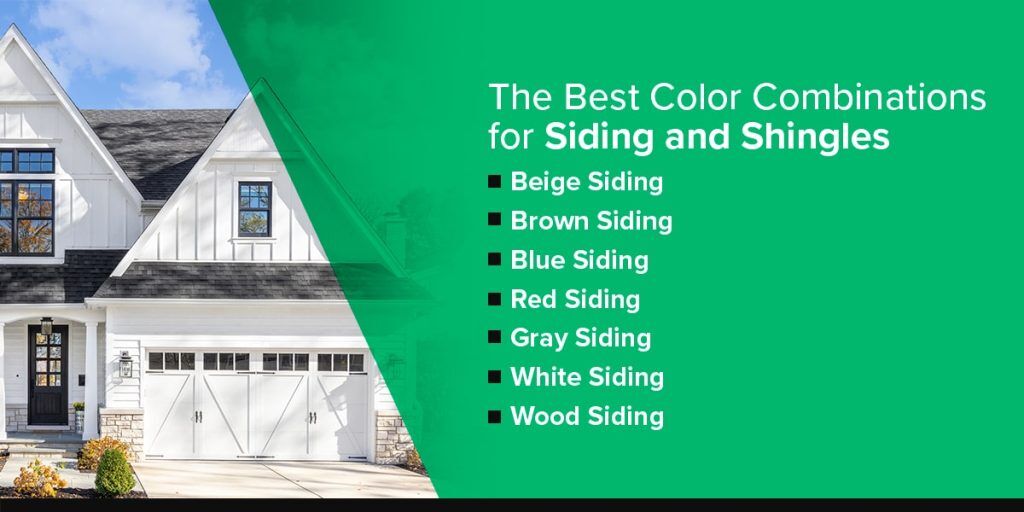 The Best Color Combinations for Siding and Shingles
Choosing a roofing shingle color that matches your home's siding enhances your curb appeal. Here are the best color combinations for your roof and siding.
Beige Siding
Beige, tan or off-white siding looks best with dark roofs like dark gray or brown. Dark roofs beautifully contrast with the light siding to create a mesmerizing visual. Plus, neutral colors are classic and timeless, so you don't have to worry about it becoming outdated.
Brown Siding
It's easy to choose a color that doesn't accent brown siding. For instance, a dark brown house with a dark roof would be monochrome. More exciting color combinations for brown houses are multi-colored roofs. Green and gray multi-colored roofs bring out brown siding's rich, earthy tones and separate the roof from the home.
Blue Siding
Blue is a wonderful siding color. Homes with blue siding are beautiful and attention-grabbing. Whether you have dark or light blue siding, the best roof color is neutral — either gray, black or brown. Light colors complement both dark and light blue. Dark shades make light blue more vibrant.
Red Siding
Red is an energetic, lively color that looks best with a dark roof. Dark gray and brown roofs look stunning with red siding. They continue to draw attention to red without taking away from its brightness. A black roof with red siding is more contemporary.
Gray Siding
Gray is a popular siding color because it's neutral and sleek. Because it's a lighter color, any dark roof pairs well with it, including dark blues, greens, grays and black. You can choose a white or light gray roof for an eye-catching and unique combination.
White Siding
White siding pairs well with most colors. However, solid primary colors contrast with white and make it pop. Depending on your home's style, blues, greens, reds or black complement white siding.
Wood Siding
Wood siding is stunning. It practically shimmers with a black or dark brown roof. These colors create smooth, clean lines and enhance wood's natural beauty. Modern houses look best with dark brown roofs. Cabins and traditional-style homes look excellent with black roofs.
Tips for Choosing a Roof Shingle Color
You may want to consider more aspects than simply choosing a complementary color. Other factors you can consider include:
Texture: If you have premium siding like cedar shake or metal, you want a roof that complements your home's textures. Consider multi-colored roofs instead of choosing a solid color for your shingle roof. Also, think about other shingle types like architectural and luxury.
Climate: Lighter roofs help keep homes cool during summer in hot climates. They reflect heat and protect your home from ultraviolet rays. Dark roofs hide algae and stains, so they're popular in coastal regions.
Neighborhood: Look at your neighbor's roofs to get an idea of the standard roof colors. You may want your house to blend with the others or stand out.
Resale: When a popular shingle color contrasts with the siding, it may increase your home's resale value.
Neutral colors: Neutral colors never go out of style. They elegantly complement almost any home, making them one of the best colors for roof shingles.
Architecture: Your home's shape and style can be a deciding factor. For example, a large black roof with numerous peaks and valleys could detract from your home's siding. In comparison, a lighter roof color would highlight those peaks and valleys.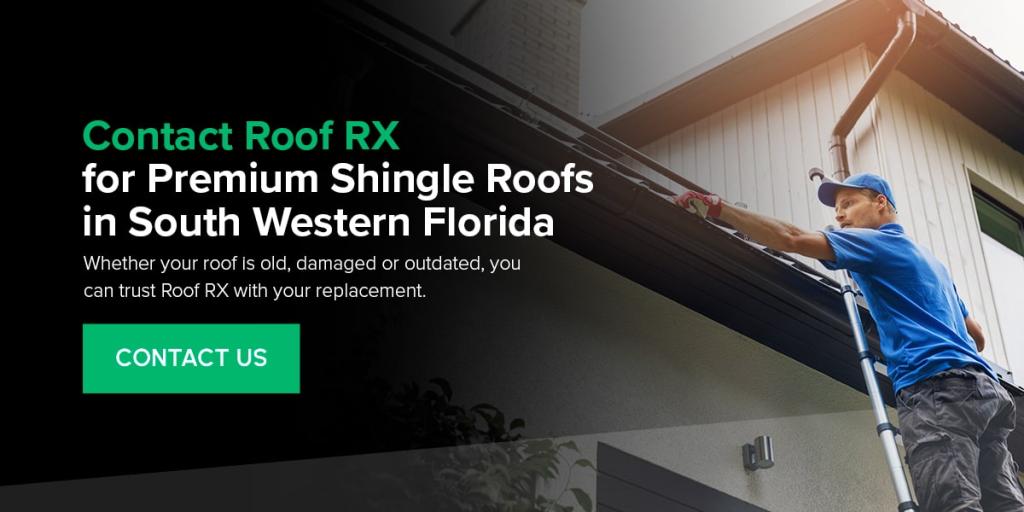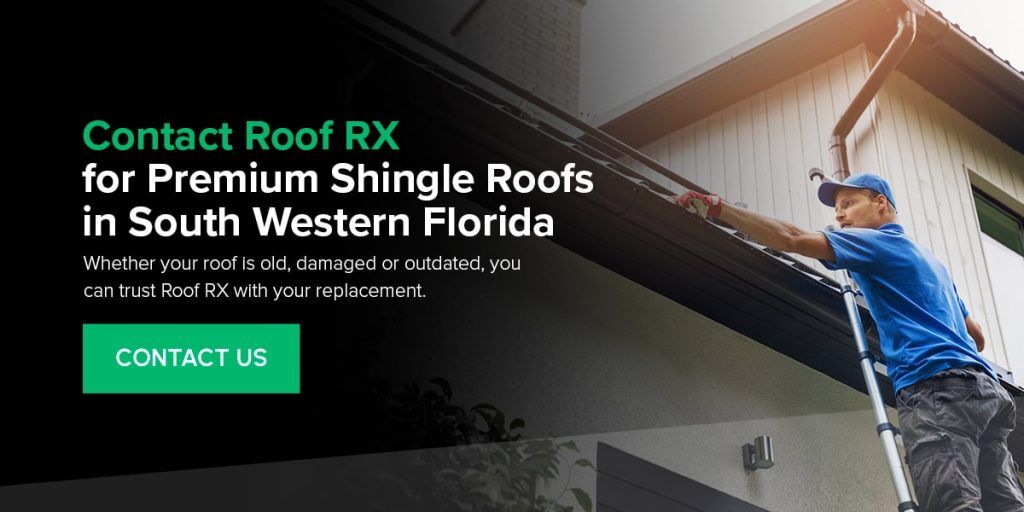 Contact Roof RX for Premium Shingle Roofs in South Western Florida
Whether your roof is old, damaged or outdated, you can trust Roof RX with your replacement. Roof RX has years of experience repairing and installing roofs for thousands of Florida homeowners. We have the skills and knowledge to provide you with a long-lasting roof replacement.
Our premium roofing materials are durable and beautiful. We have a wide selection of three-tab, architectural and luxury shingles with varying colors and styles. Trust our team to help you find the color that complements your home, whether it's one of the most popular shingle colors or a different color that works best.
Contact us today to schedule an inspection and discuss your needs.